Let's Talk About Foundational Health
The body is an extraordinary machine, but it requires support to fire on all cylinders. Every cell plays a role, and every process has a purpose. Each one demands powerful, high-quality nutrition in order to operate at the highest level.
Standard Process has been trusted for 90 years to provide patients with effective nutritional products. Along with MediHerb®, we offer a number of Foundational Health Supplements that benefit the whole body, including Cellular Vitality, General Health Daily Fundamentals packs, and MediHerb® HerbaVital.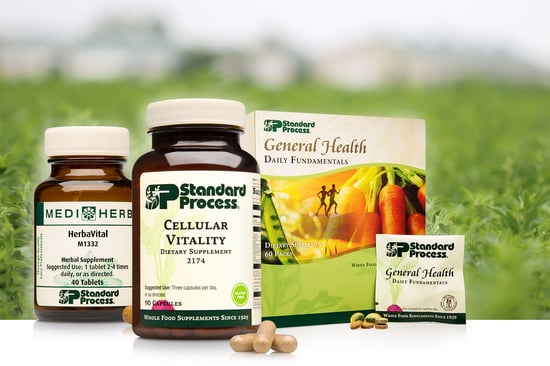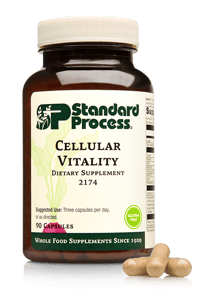 Cellular Vitality
Cellular Vitality supports the body as a whole, with specific emphasis on cellular processes.*
Contains American ginseng, which acts as a body tonic for the byproducts of everyday stress
Contains B vitamins, to fuel cells and participate in numerous body processes that contribute to normal function
Provides nutrients that support antioxidant activity
Includes the enzyme bromelain from pineapple stems and juice that, when taken between meals, modulates the body's natural inflammatory response function as it relates to periodic challenges like consumption of high-fat foods or strenuous activity
Contains coenzyme Q10, an enzyme that is essential for creation of energy within the mitochondria of cells and that helps protect cells from free radicals
Contains Cordyceps sinensis, a mushroom powder long prized in traditional Chinese medicine with a variety of bioactive compounds that contribute to fatigue management and the maintenance of healthy blood sugar levels already within normal range
Contains ribonucleic acid (RNA), compounds that can be broken apart as cells to create energy or manufacture protein*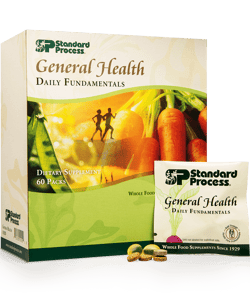 General Health Daily Fundamentals pack
General Health Daily Fundamentals packs provide total body wellness support.
It's convenient, foundational maintenance for optimal health.* Each pack contains:
Catalyn®: contains vital nutrients, encourages healthy cell functioning, and supports overall well-being*
Trace Minerals-B12™: contains a spectrum of minerals that support a healthy body*
Tuna Omega-3 Oil: provides 300 mg DHA and 60 mg EPA omega-3 fatty acids to support heart, brain, eye, hair, skin, and joint health*
MediHerb® HerbaVital
HerbaVital contains Polygonum cuspidatum, Grape Seed, Korean Ginseng, Ginkgo and Milk Thistle. These herbs and the substances within them have been traditionally used to:
Support and maintain the body as it ages
Help the body adapt to the changes of everyday life
Promote vitality and stamina in older adults
Maintain feelings of general well-being when experiencing temporary stress
Support cognitive function and normal memory function
Work as a tonic to benefit the entire body
Support healthy circulation in mature men and women
Provide antioxidant activity*